The male is jumping, drumming persistently with its beak and chirping during the bright summer night – trying to impress the female. With ist never ending energy this Great Snipe gives us one of the weirdest, most fascinating and rarest dramas in the world.
This 6 day journey gives you a glimpse of bird life in the mountains. This is not a journey where we count birds, this is an introduction for the nature lover who wants to learn more about birds and have a great experience in these cultural mountains. You will enjoy hiking and bird-watching at a low pace and we will make sure you will always have time for a Swedish fika – fresh boiled coffee, a chance to rest and maybe learn to sound like a Golden Plover. 
Lake Ånnsjön is a protected Natura 2000 area and well known for great wildlife. We will see, hear and get to know many different species, like ducks, waders, terns and warblers, but the apple to our eyes is the mostly unknown spectacular bird, the Great Snipe. When the snow has melted and the nights are bright, these birds come from all around the world to famous lake Ånnsjön for breeding.  After a four day constant flight from Africa, the Great Snipe arrives – one of our most rare species. The highlight of this journey is to have one of the best chances to see the weird and fantastic lek, where the males are trying to impress the female snipes. The sound, their jumps and the drama continues all night – a night you will never forget. 
Guides Anders and Sofie will take you hiking to great reconnaissance place, hidden gems and untouched nature. We will have lunch outdoors and enjoy swedish fika by the fire. 
We will spend the nights at our friends' guesthouse Enaforsholm Fjällgård.
This journey suits a nature lover wanting to learn more about birds and life in the mountains,  and to have a unique, weird, stunning experience not many others have seen. Perfect for nature photographers and solo travellers. 

The spectacular view from Lake Ånnsjön, home to a rich wildlife.

Quick info
– Experience worlds weirdest nature drama, the Great Snipes lek
– Hike the mountains every day
– Relaxing and peaceful setting
– 5 nights at our friends guesthouse Enaforsholm Fjällgård 
– Wanna come as you are? You can rent all gear & clothes from us, please let us know in advance
Birds And Mountains – A Rare journey 2020 
Full itinerary 
Day 1
We start the journey with dinner at our guesthouse. We get to know more about the place and enjoy the mountains with its relaxed surroundings. We talk about the rest of the journey and have a nice evening together.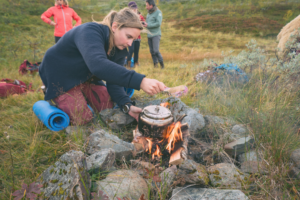 Day 2
After a great breakfast we head out to the wildlife. Hiking to nearby wetlands and other great habitats for many different kinds of birds. We spot and get to know more about the birds. Today's hike is a gentle start to the week and we hike around 4 hours in a flat landscape at a slow pace. We make a fire and enjoy lunch and Swedish fika outdoors. After a full day of birdwatching we head back to the guesthouse for a three course menu, sauna and a swim in the river. 
Day 3
New day and a new spot to watch birds and wildlife. We hike at the shoreline of lake Ånnsjön. The delta in this area is protected nature and hosts many migratory birds. Today's hike is flat and we spend some time in bird watching towers getting to know more about the birds, their habitats and the surrounded area. We have lunch andfika outdoors, and after the hike we head back to the guesthouse for a great dinner. Today's hike is around 4 hours. After dinner we get to know more about the Great Snipe before heading out to see the spectacular lek. Around one hour of hiking takes us to the specific spot. We spend the evening outdoors in the mountain environment. The birds and the bright night give us a extraordinary experience not many have seen before. We spend the night at the Great Snipe location as long as we want before heading back to sleep at the guesthouse. 

Day 4
After a lazy morning you have the morning for personal activities. Have a swim in the River Enan, stroll around the isle we staying at, have a bath in the cave of dreams "drömmarnas grotta" or hangout at the terrace. We meet at lunch and make a fire and cook our food over the open fire. After lunch we make a shorter hike. We hike in a flat landscape for about 3 hours. We have dinner at the guesthouse.
Day 5
We take the car to another good habitat for the birds. Today we head to the mountains around Storlien. Great view, hiking and spotting not only birds –  mammals like reindeer and moose are common in this area as well. In today's hike we gain altitude around 150 meters and we spend most of the day above the tree line. Hiking for about 6 hours. Lunch and coffee breaks outside. 
Back at the guesthouse we have a fantastic three course menu, enjoying sauna and great company. 
Day 6
We end this journey with a hearty breakfast enjoying the peaceful surroundings before heading back home. Transport to Trondheim Airport and Trondheim Railway station are included.
Please note: Due to rapid weather changes we can change places of birdwatching. The late watch of the Great Snipe lek will take place when the weather are at the best. We want good conditions when experience this unique bird.
Fact about the Birds and Mountains – a rare journey 2020
Time: Late May, the peak season for migratory birds
Date: 27 of May -1 of June
Length: 6 days/5 nights
Location: Start and end at Enaforsholm Fjällgård. Pick up from Trondheim, Norway.
Focus on: Bird watching, hiking, mountain love, local culture and great food.
Grading: 3* Moderate walk maximum 15km in various terrain
Groupsize: 1-9 persons
Price: SEK 14.500
*On a 5-grade scale there 1 is easy ad 5 is difficult
What is included
– Local guides
– Pick-up at Trondheim railway station or airport. All other transports during the stay are included as well.
– Single room in our guesthouse is available at extra cost. Please send us a request.
– 3 course menu dinners every day, breakfast, swedish fika and lunch every day. Please note, no drinks are included.
– Binocular 8×42
What to bring
– Hiking boots
– Clothes (see packing list and exclusive video for more details) Equipment rental are avaible, please contact us at least 2 days before departure. Pricelist here.
– Backpack approximately 40 liters
– A curious and happy mind