During this 9- day journey you get to see our everyday life while we take you back to the human roots-  the way of living close to nature. Our food comes from the forest, lakes and mountains of our backyard as we take fine dining out on the mountains. With its never ending mountain views this area is well known for wild surroundings, friendly people, mixed cultures, traditional food and great wildlife. 
Join us on our hiking tours to our favourite mountains and waterfalls. Learn how to make a fire the old way -with ignition steel, spend the night in our traditional Sami Lávvu(tent) and make your own cinamon bun over open fire. We like to treat you with the best that Scandinavia can offer and belive the best way to do it is in small groups. This gastronomy hiking journey is a  hidden gem outside the crowded tourist spots. 
 In the boarder country you will get to know and taste three different cultures the Norwegian, Sami and Swedish culture. You will learn the sauna-rituals, the importance of Swedish fika and how to talk with the King of the Forest- the Moose. The question is: will you learn how to enjoy taking a cold swim in the lake?
Midnight Sun or Berry-time?
This exclusive Gastronomy hiking journey is available two times a year.  Take the chance to experience the midnight sun with its bright light all night long. If you join us in June the nature explodes with colours and sounds and you will have the mountains to yourself.
On the other hand, if you join us in August the wheather and lakes are warmer, the mountains are full of berries and eatable plants and the night gets dark.
The Midnight sun Journey 22-30 June
Berry-time Journey 4-12 August 

Do you have any questions?  Do not hesitate to ask! 
  Quick fact
   – 3 Course local menu every dinner
   – Peaceful and relaxing setting 
   – Hike the mountains every day
   – Learn how to live close to nature
Wanna come as you are? You can rent all gear & clothes from us, please let us know in advance. Click here for a current pricelist here
Sleeping arrangements: 2 nights at cosy private cabin Skurdalsporten Fjellstue, 2 nights in our traditional Sami Lávvu(tent), 4 nights at our friend´s guesthouse Enaforsholm Fjällgård
The tour includes: Pick up at Trondheim International Airport or Railway station, full board including three course menues, some snacks, overnights, local guides, transports during the stay and surprises along the way   
We belive the best way to enjoy this journey is to leave your to do-lists and worries at home. Bring a smile and an open mind and we promise to give you great company along the way and memories of a lifetime. 
GASTRONOMY AND HIKING JOURNEY 2020
FULL ITINERARY
Day 1
Our guide will welcome you at the Railway station or airport in Trondheim, Norway. After approximately one hour we will drive pass the border to Sweden and reach our guesthouse in the mountains. We welcome you with a traditional three course local menu. Sit back and enjoy the stunning view while your guide will tell you more about the area and the following activities during this journey. We end the day with coffee in front of the fireplace.  
Day 2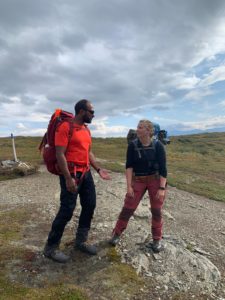 During the first day we head out for a hike in the mountains and enjoy a local lunch in the wild. We get to know the nature, taste some eatable plants and listen to the rippling streams in the bare mountains. Hiking distance is approximately 8 km, around 5 hours, hiking in a varied terrain. We will come back to our guesthouse for a sauna, a bath in the river Enan and have a traditional three course dinner at the guesthouse.
Day 3
We head out to the traditional Sami Lávvu camp. After hiking 3 km we will reach the campsite. There you will learn how to start a fire with different techniques, how to use an axe and carve your own spoon. Together we will prepare lunch at the campsite. We will spend the night just like the Sámi people used to by sleeping on reindeer pelts in a traditional Sàmi Lávvu tent. If the weather is good and if you're really adventurous you can spend the night under the stars. Otherwise we assure you that you will have a nice and cozy night inside our lávvu in warm sleeping bags. We will all spend the night together in one big làvvu. With nothing but the company of the mountains you will fall asleep to the sound of the crackling fire.   
Day 4
Wake up to the smell of freshly boiled coffee and the sound of the ptarmigan laughing over the mountains – this is the best way to start a day. In this peaceful setting we will enjoy a slow morning at the campsite. After enjoying a traditional outside breakfast we will continue with the art of crafting wood, finding eatable plants and working on our campsite. 
Day 5

Start the day by the fire with breakfast before heading back to the guesthouse. A lunch awaits us before have the afternoon off. Have a shower, a sauna or a swim in the river. Stroll around the islet outside our guesthouse, have a bath in "drömmarnas grotta" (the cave of dreams), or enjoy the view from the terrace. 
Later, after enjoying a three course dinner at our guesthouse, we enter the best time for wildlife spotting. Just before dawn we hike one hour to get a great view of the area and the wildlife in particular. The chances of spotting moose, reindeer, capercaillie and ptarmigan are great in this area. The area is also home to Sweden´s Big Five – Wolverine, Brown Bear, Wolf, Lynx and Golden Eagle. However, these animals are extremely shy and difficult to spot. We can not promise you will see any of them, but we can promise to give the best of chances in doing so.
We end our day on the mountain in front of the crackling fire and will enjoy some local delicacies. We will put our heads on the pillows at the guesthouse. 
Day 6
This four hour hike will take us to Norway and the cosy old cabin of Skurdalsporten Fjellstue, where we will be staying for two nights. The terrain is various and we will hike almost all day above the tree line, with a difference in altitude of approximately 150 m. During the hike you will use your new gained knowledge and make a fire and cook our own lunch over the open fire. Of course we make sure to enjoy a Swedish "fika" by the fire as well. You will get to know more about the history of this boarder region where the pilgrims and the first Air Tourists of Sweden hiked this path long before us. You will end the day with a Norwegian sauna, swim in the lake and a typical local dinner. 
Please note: Skurdalsporten Fjellstue does not have running water, electricity or road access. We will sleep in our own beds and share one big room together. We will have this fantastic cabin all to our selves. 
Day 7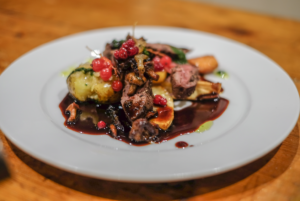 We start the day with a traditional breakfast before heading out to the mountains. We will spend all day outside hiking the nearby mountains and enjoy the never ending views. Maximum distance for todays hike is 8-9 km with a difference in altitude of approximately  200m. The terrain is exposed and the weather will decide what kind of hike we will take. After a full day of hiking and being outdoors we will get back to Skurdalsporten Fjellstue for a sauna, swim in the lake and sit the luxurious hot tub. We will end this Gastronomy Hiking Journey on top, with an XX dinner in our cabin. This is an evening you will always remember.    
Day 8
A heartly breakfast will give us a good start of the day, before hiking the 4 hours back to the van. We will enjoy lunch outside before returning to the guesthouse. Todays´ hike will offer a great view, a good chance to see reindeers and a superb variation of flowers. We will enjoy a three course dinner watching the mountains one last time before heading back home.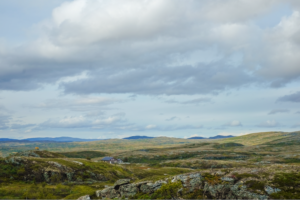 Day 9 
We will have breakfast at the guesthouse and get ready for departure- or choose to stay an extra day on your own if you would like. 
Facts about the Gastronomy Hiking Journey 2020
Time: June or August
Date: The Midnight sun Journey 22-29 June
Berry-time Journey 4-11 August
Length: 9 days/8 nights
Location: Start and End at Enaforsholm Fjällgård. Pick up from Trondheim, Norway. 
Focus on: Experience  great local food, living close to nature, exploring the mountains with fauna and wildlife, staying overnight in Sámi lávvu tent and having a peaceful time.
Grading: 3* Moderate hiking. Maximum 15km in various terrain Groupsize: 1- 9 people
Price: SEK 19.500
*On a 5-grade scale where 1 is easy and 5 is difficult
What´s included:
– Local guides
– Pick-up at Trondheim Railway station or Airport. All other transports during the stay are included as well. 
– 4 nights at our guesthouse, 2 nights together in a traditional Sámi làvvu tent, 2 nights at a private cabin, Skurdalsporten Fjellstue. Single rooms are available in our guesthouse at an extra cost. Please send us a request. 
– 3 course dinners, breakfast, swedish fika and lunch every day. Please note: Water is available to every meal, no beverages are included
– Binoculars 8×42
– Reindeer pelts, sleeping bag.
What to bring:
– Hiking boots 
– Clothes (see packing list and exclusive video for more details) Equipment rental are avaible, please contact us at least 2 days before departure.  Pricelist here. 
– Backpack approximately 40-65 liters
– A  curious and happy mind