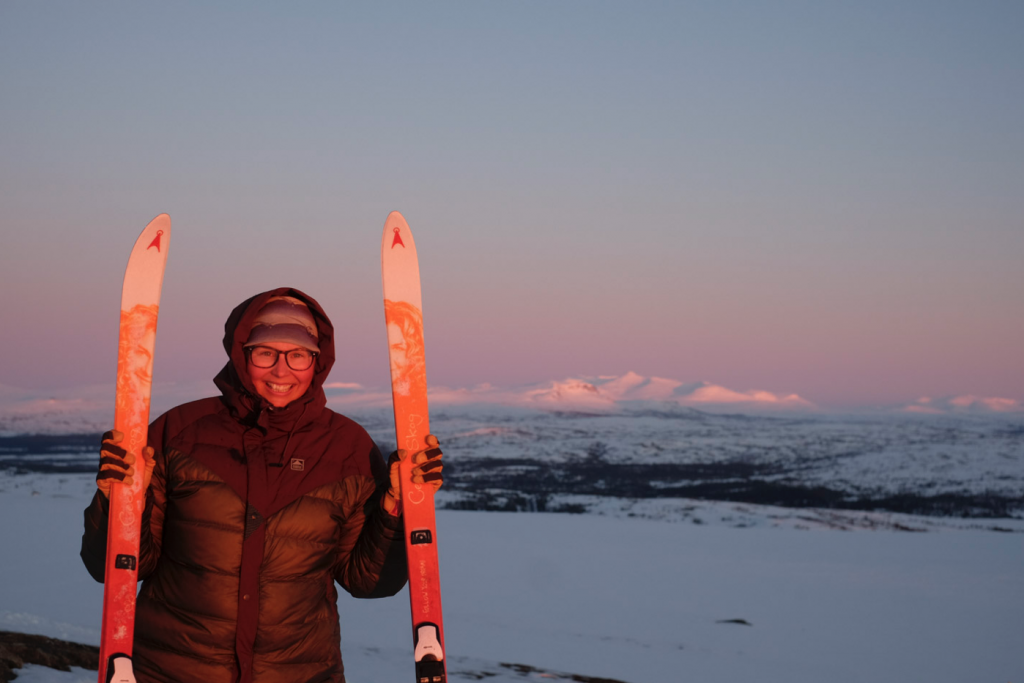 SLEEP IN A TENT, WINTER OUTDOORS KNOWLEDGE & LOTS OF SKIING  4-7TH OF APRIL

Join us for an educational and fun long weekend where we

*Sleep in tents in the mountains for two nights, one night in a cabin
*Teach us about outdoor life during winter, ski technique, navigation, digging snow shelters and much more
*Keeps a calm pace, enjoys good food and meets like-minded people
*Is a small group, for the best experience
*Have a fun and safe experience on the winter mountains
DESCRIPTION
Jämtlandsfjällen is one of our most popular mountain areas in Sweden. During this tour you get to enjoy the mountains together with Sofie who is a local guide and takes you to the unknown gems, beyond the main tourist routes. The terrain is varied and we move at a comfortable pace.
The tour suits people who are
– curious and wants to experience the mountains in winter
– want to teach you about the mountain, navigation, safety, ski technique and share the experience together with other like-minded people
– wants to get away from screens, stress and everyday life
– want to be able to make their own tours after completing the course
To join this tour you have to
– have experience in the summer mountains, preferably with overnight stays in tents
– a good basic condition, beeing able to walk for 8 kilometers during a day
ITINERARY
Day 1 Thursday
11.00 Welcome (The start is adjusted according to the arrival of the train, the Snälltåget goes all the way!)
12.00 Shared lunch
13.00 We go through equipment, clothes and pack the sleds and leave with the skis when we are done. Dinner is cooked in the trangia kitchen. We spend the first night in a tent.
Day 2 Friday
full day on the mountain
08.00 Breakfast 
09.30 We ski and do exercises.
During the day, we learn to build tent camps, practice navigating the winter mountains, practice ski technique with sledges and cook good food in our open-air kitchens We dig a snow shelter and have lunch on the mountain We sleep in tents.

Day 3 Saturday
Full day on the mountain
08.00 Breakfast in the tent camp
We continue to revel in knowledge and a wonderful atmosphere. We learn more about mountain safety, build snow shelters and practice ski technique We dig a snow shelter and have lunch on the mountain. The rest of the day we practice navigation, mountain safety and trip planning.
Once back in our cabins, we enjoy a sauna and shower, good food and a cozy evening by the fire. We sleep in a 4-bed cabin with shower and toilet.
If you want your own cabin, there is an additional cost.
Day 4 Sunday
Time for reflections
08.00 Breakfast together We give ourselves time to reflect after the days on the mountain, take lessons learned, equipment tips and have a last chance for questions.
09.00 Thank you and hello for those traveling by train. For those who want an extra day, there is the possibility of a later check-out.
FACTS
Date: April 4-7
Location: Storlien, Jämtlandsfjällen
Maximum number of participants: 8
Difficulty: 3/5
Requirements: You must be able to walk 8 km during a day hike, have a cheerful mood and be prepared that it can be a challenge if you have not been to the winter mountains before.
No previous requirements for winter camping or skiing are needed – we are here to practice and learn.
HOW TO GET HERE
By train. The easiest way to get here is by train, there are both night train from Stockholm, Göteborg and Malmö and day trains from Trondheim/Oslo and the major cities in Sweden.  Snälltåget, SJ and Norrtåg will take you here. 
By car. Jämtlandsfjällen is easy to reach by car. E14 leads you straight here. There are chargers for electric cars along the way. Exact positions can be found here
By plane. Our nearest airport is about 80 kilometers away, Vænes International Airport. From here there are daily departures to many of the largest European cities. If you want to fly domestically, Östersund/Åre airport is 170 kilometers away.
WHAT HAPPENS IF I WANT TO CANCEL MY EXPERIENCE?
Up to 15 days before the tour starts 98% refund (Credit card fees is not refunded)
14-5 days before the tour starts 40% refund
4-0 days before the tour starts no refund
EQUIPMENT
Sledge, shovel and windbag included.
You don't have to have all the equipment, I recommend you to rent.  When participate in the tour you get a favorable discount!
Sleeping outside package with winter tent, inflatable sleeping pad with down and winter sleeping bag.  Want to rent? Email me! sofie@strovtag.com
You will receive a complete packing list after you register.
This is included
Mountain joy, knowledge and practical exercises Sledge, shovel and windbag
Local guide
1 night in a cabin (and the possibility of leaving equipment in the cabin when we are out on the mountain)
2 full days on the mountain
Food during the entire stay (no drinks)
You need to bring this yourself

Clothes
Personal equipment
Touring skis, poles, boots, skins
Tent, sleeping bag and sleeping mat for sleeping outdoors (can be rented!)

About the cabins
We live in cozy cottages, 4 people together. The cottages are located in roadless country, a short walk from the nearest road. Here we enjoy a simple standard with shower and toilet each cabin. The best thing about these cabins is that we ski directly from the door.
MORE PHOTOS FROM Previous COURSEs